I .   Yi Xing Teapots Characteristics
Yixing teapot  (also called zisha teapot, purple clay teapot)  is a  traditional gongfu teapot.  Because of its special clay, it is much slower in conducting heat and has better permissibility. – Read More…
Good Yixing teapots concentrate heat from the hot water into brewing/steeping the tea leaves for higher quality and taste.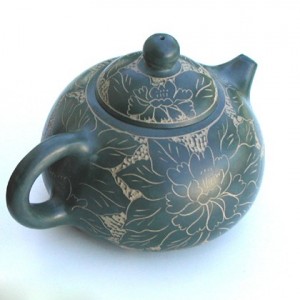 II.  How to Identify an Authentic Yixing Teapot
Real purple-clay or xisha clay actually have various colors, they are dull and not bright at all. If the Yixing teapot you have is brightly colored or glaring, then it may not be real purple clay. Even those that have been used for a while will never develop a glare or bright color. – Read More…
III. How to Choose a Yixing Teapot
In buying a purple clay teapot, determine how many persons you would be serving tea so that you can get the right size. – Read More…
IV. Styles of Yixing tea pot that best suits your personal style and needs
Considered by many to be feminine in style.  Its open design is best with teas that are packed tightly such as oolong teas like Monkey Picked. Its roomy body allows the leaves to open in full. – Read More…
V. Four levels of price for Yixing teapots
There are four levels of pricing for Yixing teapots which depend on the reputation of the maker, the complexity of  the design, the type of clay and its color and whether the surface was polished or not – Read More…
VI. Seasoning the yixing teapot
To nurture Yixing clay teapots which some may refer to as seasoning of the teapots is a literal translation from Chinese word Yǎng Hú which means to help in raising,  developing  or caring for pot.  YǎngHú is a meticulous process which needs patience and correct method. – Read More…

VII. Steps to prepare your new Zisha Yixing Pot
To prepare your new Zisha teapot for use, here are some steps you would need to take. The first step would require you to immerse and boil the whole pot in water but it would be easy to cause damage to the pot's delicate constitution  if you do not have the necessary skill for this procedure. – Read More…
VIII. Yixing clay teapot's color
The uniquely fine qualities of a Yixing teapot that has made it much sought after lies in the chemical composition and attributes of Zishay clay used in making them.   Zisha Clay , which comes from Zi meaning purple and Sha, meaning sand,  is not just ordinary sandy clay and it is not actually purple in colour. – Read More…
IX. Yixing Teapots :  Facts you should know
Yixing  teapots date back from the Ming Dynasty which is from 1368-1644.  They are designed to look attractive and be quite functional. – Read More…
In Yixing, China, which is some 120 miles northwest of Shanghai, can be found a very rare type of purplish clay called zisha.  Made of iron, quartz and mica, zisha clay is used to make very special teapots called Yixing (pronounced as Yee-shing).
Yixing teapots, found only in Yixing, China, are sought after by both collectors and tea enthusiasts alike because of its very special properties.