Taiwan wu-long can be found in many parts of the island.  From the photo below, you will see the location of some important regions in Taiwan where their tea is grown.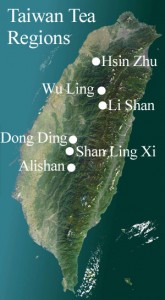 Hsin Zhu County
Located in northern Taiwan, Hsin Zhu county is one of the top producers of BaiHao oolong tea which is also called Oriental Beauty Tea or Pong Hong Tea.
Due to its unique flavor and aroma, BaiHao oolong tea's popularity among tea drinkers is steadily on the rise.
Wu Ling
In Mount Lit, the area of Wu Ling  is between 1800 and 2000 meters in altitude. In 1975, Oolong tea production began with the cultivation of 6 hectares of what was previously orchard land in  Chiang Kai Shek's summer estate.
Oolong tea produced from Wu Ling is expensive and much in demand in Taiwan.
Li Shan
Li Shan,  also called Pear Mountain and  part of the Jade mountain range, is where you will find Taiwan's tallest  mountain ranges. The Jade Mountain is composed of Hsiukulan, Guanshan and Sinkang.
Situated in Ho Ping town, Taichung county,  Li Shan is  also referred to as Sha La Mao and is the highest among tea growing regions thereat.  It is the highest tea-growing region in Taiwan. Oolong tea plantations range from 1800 meters and 2650 meters.
Shan Ling Xi
Shan Ling Xi , on the other hand, is located in Jhushan town, Nantou county. Oolong tea has been cultivated here for the last  50 years or so but only in 1981 did they increase production  of  oolong tea to catch up with local market demand.
The oolong tea plantations in  Shan Ling Xi has an altitude of  1800 meters.  Most of what is grown here is the Wu-Long variety –  a very popular  kind of oolong tea in Taiwan. Jin Shuan and Tsuei Yu, two other popular tea types, can also be found in Shan Ling Xi.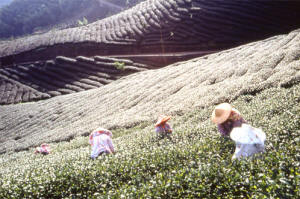 Mount Ali  (Alishan)
Alishan is well-known for its tea called  high-mountain oolong tea. It is an expansive area where many unique oolong tea producing areas can be found. Two of the most famous among these are ZhongShu Hu and Shi Zuo.
Mount Ali tea is known for  its fragrance with overtones of flowers and fruit, giving it a sweet scent.  Our Four Season oolong tea is a fine example of Alishan oolong tea.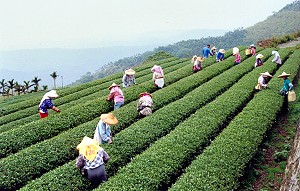 ZhongShu Hu area
ZhongShu Hu has been producing Oolong tea for more than 20 years which is one of the most prestigious Oolong tea in the country.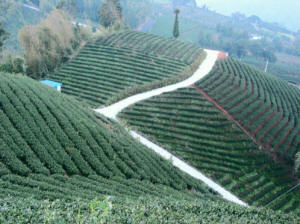 Shi Zuo area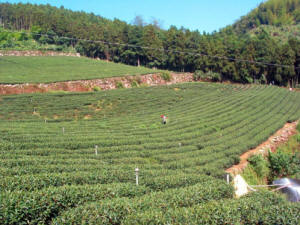 Sometime in the 1980s,  Wu Long Wei,  a new type of tea, was extensively grown  in the Shi Zuo area.  This tea type is very suitable to the climate and conditions in this area and today, around 350 hectares are already planted with Wu Long Wei tea.

I.       History of  Taiwanese Tea
II.      The Oolong Tea-Growing Regions of Taiwan
III.     Growing Wu Long  ( wu long ) Tea in Taiwan
VI.     Tea Processing